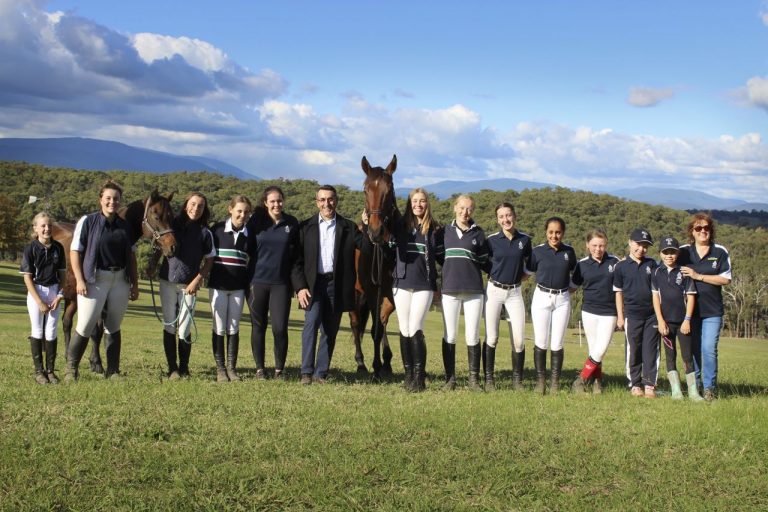 Posted on
September 19, 2018
Tintern placing exceptionally well on Interschool Equestrian leader-board
Last Thursday 12 September, six members of our Equestrian Team travelled to Boneo Park to compete at an Interschool Combined Training and Dressage Day. Our team showed incredible sportsmanship as well as achieving some great results. Amelia Qvist in Year 9 placed 3rd in the 80cm Secondary Combined Training, Bridie Wescombe in Year 8 (pictured) placed 4th in the 95cm Secondary Combined Training and Ruby Smiley in Year 5 (pictured) placed 2nd in the 60cm Primary Combined Training. In the Senior pure dressage phase, Ella Trevorrow in Year 10 placed 4th. Across the day, the whole team exceeded all expectations by achieving a whopping 64 points towards the series, which moved our school from 26th place to 9th on the leader-board out of 72 schools. We can't wait for the Final round of this series on 1 December and hope to see more of our team there! Congratulations to all of the girls and parents who represented Tintern with pride!
by Ella Trevorrow, Year 10 Equestrian Team Member
Junior School riders compete at Royal Adelaide Show
Aisha and Mia Heinrich recently competed at the Royal Adelaide Show. Aisha (Year 3) placed 3rd in the Open Gelding section out of a field of 8, 2nd in Pair of Ponies and 4th in Novice Pony out of a field of 7. Mia (Year 5) placed 5th in a field of 17 and was one of the youngest riders in a class containing 10-12 year olds. She placed 6th in Smartest on Parade out of 20 and 3rd in her Open Gelding section out of 12 (she was the only child in the class). These are outstanding results for both girls!
Congratulations to Aisha and Mia, who are now looking forward to the Royal Melbourne Show, coming up during the September holidays!
by Alison Bezaire, Equestrian Coordinator
Tintern Grammar 2019 Inter-School Horse Trials Championship to be held on Saturday 27 and Sunday 28 April 2019
Tintern Grammar has a proud tradition of competition in a range of equestrian events.
Our Friends of Equestrian (FOE) group will once again be running their very popular Victorian Horse Trials on the weekend Saturday 27 and Sunday 28 April 2019.
This event is an official qualifying event for the Australian Interschool Horse Trial Championships.