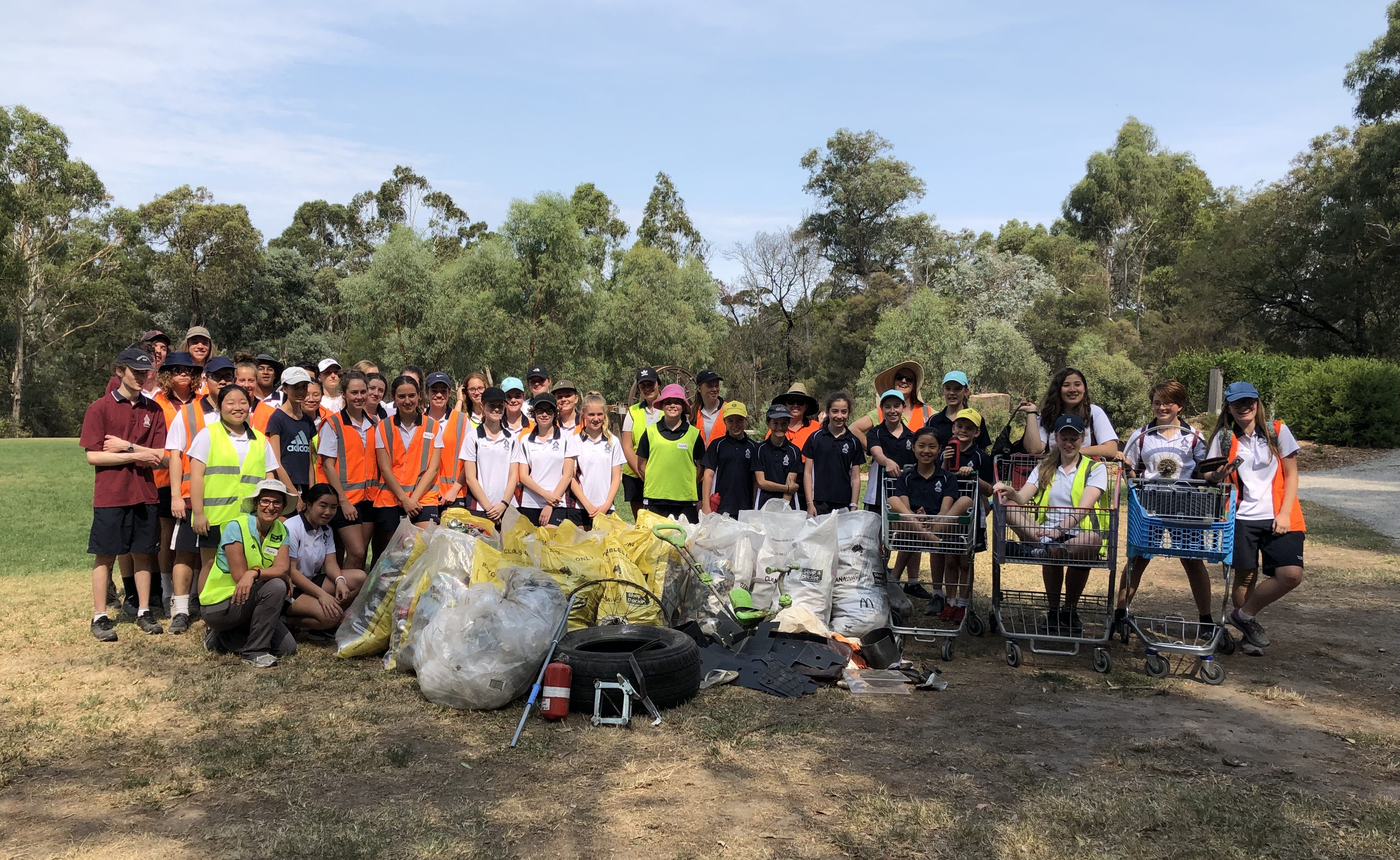 On Sunday 3 March, the Green Team held a 'Clean Up Australia Day' event at Ringwood Lake. The day was a huge success, with 60 people in attendance. Armed with recycling bags, our volunteers split into groups to go out and collect all the trash they could find within their specific area. Over a few hours we collected bags and bags of rubbish, including some strange and bizarre items. More than 300 glass bottles were collected, 70 cans of spray paint, 3 shopping trolleys, two car jacks, a tire and a tricycle!
Our collective effort as a group was incredible and it was so good to see everyone out there trying their best to make a positive difference to the environment. For many of us it was an eye-opening experience to see all the waste that had been so carelessly discarded into the natural environment. It was disheartening to see ducks swimming in the creek surrounded by aluminium cans and algae-covered shopping trolleys half submerged in the water. However, we were comforted by the fact that, not only were we making the area a cleaner place for the community, but for every single aluminium can we recycled, the energy that was saved is equivalent to the energy it takes to power a television set for three hours!
The event would not have been possible without the support and organisation of our incredible staff members, Ms Anne Bortolussi, Mrs Di Grochowska, Ms Elizabeth Wall, Ms Trine Ord and Ms Kelli Green, and, of course, our Green Team Captains, Erin Doupe and Julia Rosenbrock. We would like to extend a big thank you to everyone who attended on the day to help out and support our cause!
The other project that the Green Team is currently undertaking is the planting of seedlings to sell at the Tintern Fair coming up on Saturday 30 March. Over the course of a few lunchtimes, 22 students from Years 5 – 12 gathered at the farm to plant the seedlings in recycled containers and coffee cups that were collected by our members. These will be on sale from the Green Team Stall at the Tintern Fair. Regular updates of the Green Team's activities can be found on the Green Team Portal page. If you are interested, please stay tuned as we have a lot of exciting activities and events planned for the rest of the semester!
by Hannah Taylor, Year 11