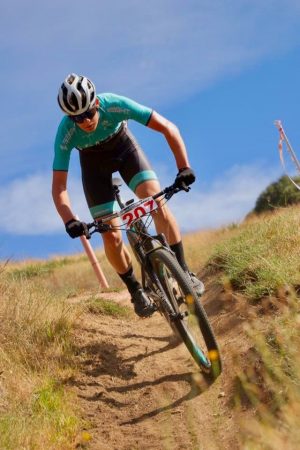 The Otway Odyssey is a mountain bike race famous for being one of Australia's toughest. The feature distances are the 100km and the 50km, while there is also the 30km for beginners. Now in its thirteenth year, the race was originally a point to point, from Apollo bay to the former logging town of Forrest, which is tucked away in the Otway Ranges. In 2017 the Great Otway Gravel Grind was introduced to run on the day after the Otway Odyssey. The weekend has now become a double header featuring the Cross Country Mountain Bike race on the Saturday and a backcountry dirt track Gravel Grind on the Sunday. Snaking through some of the steepest and most picturesque gravel and sandy roads of the Otway Ranges.
I decided that I would take part in the 50km both days. Racing my Mountain bike on the Saturday and my Cyclo-cross bike on the Sunday. The 50km race on Saturday started as a bunch in a field of 400 plus riders. As the starter's whistle blew, the race had begun and we were straight into a half hour climb. I wasn't able to stay with the lead group up the hill, but ended up gaining places on the technical single track. I then caught the other three or four lead riders in my category through the feed zone and into the second part of the race. We proceeded to race neck and neck for the next hour right until the end where it came down to a sprint finish for 2nd Under 18's, which I managed to grab, and also 9th overall.
Some fun facts
Bike: Flanders Bossberg, Mountain Bike. Distance 50km. Race time: 2hours 26minutes. Average heart rate: 175bpm. Max heart rate: 190bpm. Elevation gain: 1,122m.
On the Sunday was the 50km Great Otway Gravel Grind which was filled with gruelling steep fwd climbs and some flowy fire road descents. I stuck with the lead group the whole way and snatched the overall and Under 18 win in a sprint finish with my good friend Xavier.
Some fun facts for the Gravel Grind
Bike: Flanders Forte, Cycle-Cross. Distance 50km. Race time: 1hour 46minutes. Elevation gain: 1000m. Average speed: 26.5kph. Average heart rate: 178bpm. Max heart rate: 185bpm.
by Mitch Snowball, Year 10