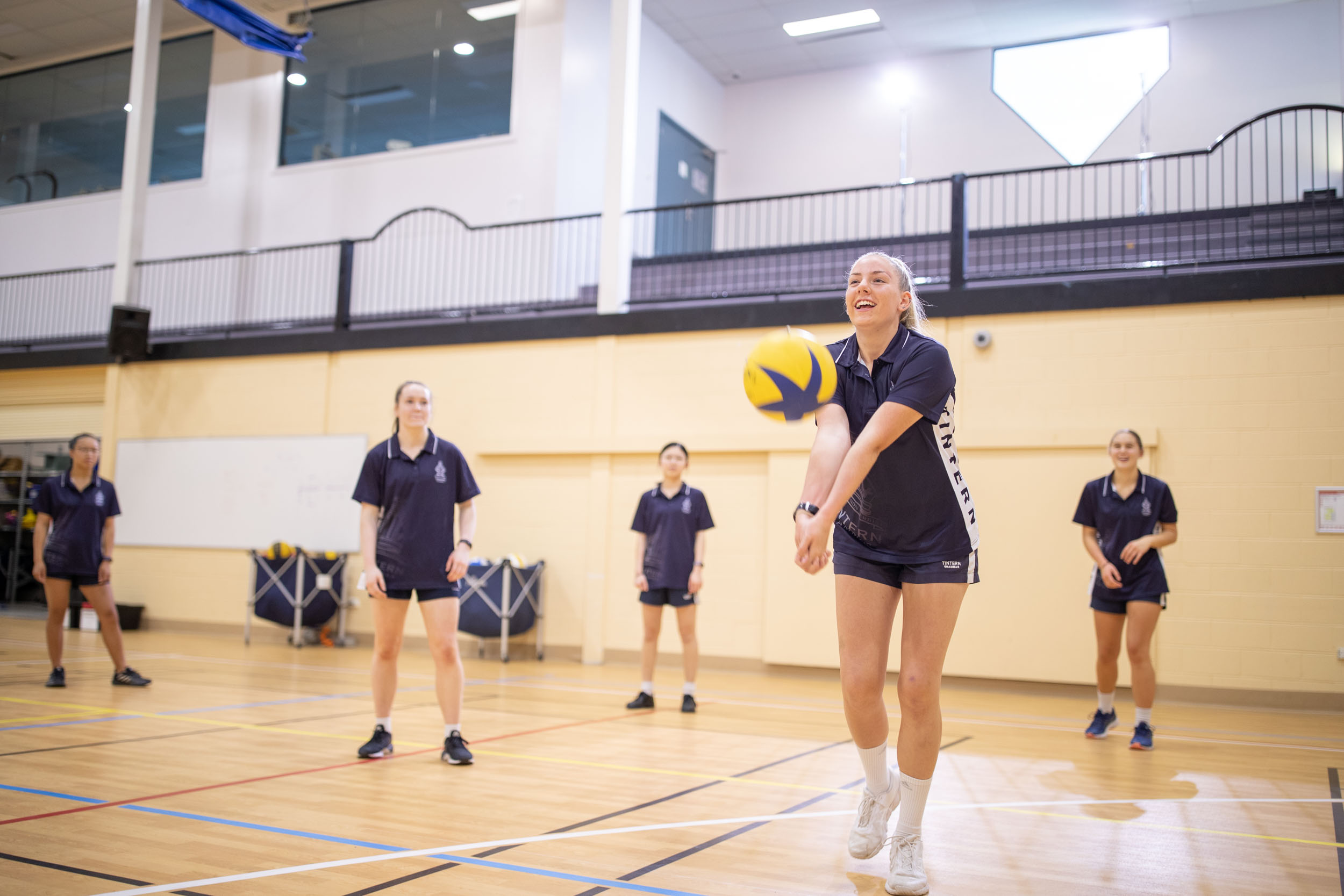 Professional Learning comes in many guises – seminars, staff days, twitter spats and marking sacs – they can all help foster an even better way of being that ultimately best serves the students under our stewardship – it happens every day in micro and macro ways at Tintern Grammar and we observe colleagues supporting each other, sharing their expertise and making experiences better for those who will follow in their footsteps, a generous Learning Community.
Jessie Petchell Science and PE Teacher and Volleball Co-ordinator shares her process of professional learning, preparing young adults as Volleyball coaches who will support our students. It is a reflection of a special space – where staff are willing to go that extra effort to support and promote each other and their professional growth every day.
'After leaving school for the big wide world, there is often a pull back to the safe place that gave you so much structure and sense of belonging – to the teachers, the peers, and to the classes of course. But also, there's a pull to the opportunities that are offered, and are available at your fingertips. Once you leave school, you often have to search for these types of adventures, and it's wonderful to be able to foster this growth beyond the traditional classroom.
One of the toughest things to let go of when we leave school is the teams that have become such a part of our lives – they served our physical, emotional, mental and social well-being, soft and hard skills and were key building blocks for life. So it is wonderful to be able to continue to offer opportunities such as these beyond Year 12 and the school gates, and that is what comprises being part of the Tintern Grammar Volleyball coaching team. Experiencing the highs and lows of being in this team, getting weekly exercise which as we all know so well, is tough with the demands of adulthood. As our students finish Year 12, Tintern has started to offer regular coaching opportunities for past players. There are the obvious benefits for them of having a part time job while starting their university course, or gap year.  These past students are also building life skills they can add to their resumes for life past university and staying connected with their community. As well as this, the experience they bring, the enthusiasm they share and the Tintern spirit that they are teaching our younger students is invaluable.
In order to support young adults coaching Middle School students, I identified the need for the coaches to complete a course in order to feel prepared and safe. By upskilling the coaches they became more effective and efficient to get the most out of each session.
Some of the modules they completed included: Safeguarding, engaging participants, session planning, communication, and group management, as well as a reflection on how to improve. After completing the course, some of the coaches have already provided positive feedback, noting how useful it was:
"I found it helpful, especially the modules about communication and knowing how to tell what works/doesn't work in a training session. I also liked how it is broken down into parts, so it is easy to complete" Emma d.
By making coaching a positive experience, our past students and current students continue to jump into the coaching role.'
Jessie Petchell | Secondary Science, Health and Physical Education Teacher, Volleyball Co-ordinator
Tintern Grammar