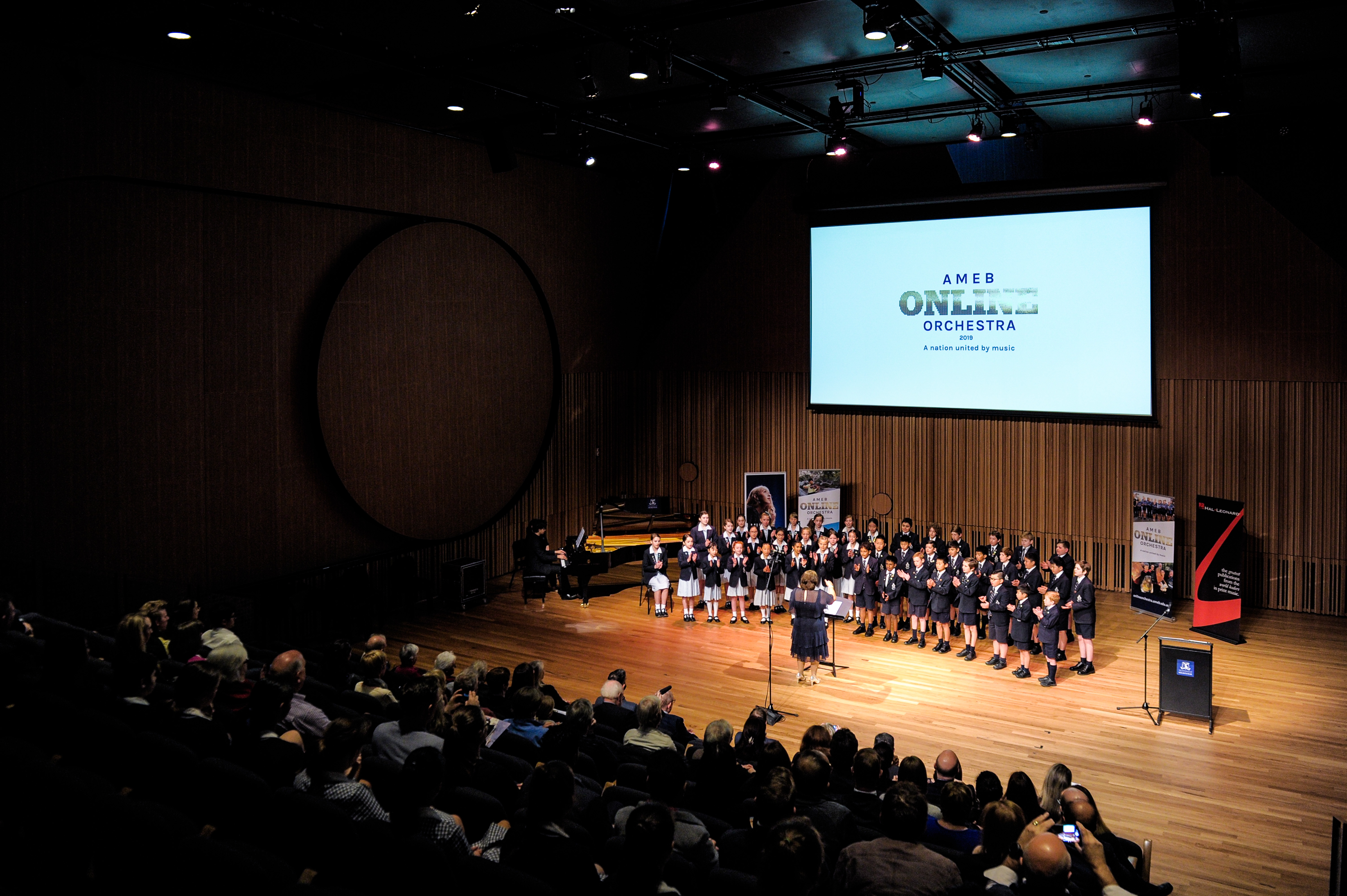 Posted on
October 29, 2019
Last term, the Junior School Choirs and Paganini Strings came together to perform and record the song "I am Australian".
This video recording was sent to the Australian Music Examinations Board (AMEB) and then was combined with many other Australian school groups online to help make one big online orchestra all around Australia.
We were very privileged as a school to be selected to perform at the Official Online Orchestra Video Launch event on Tuesday 22 October. Fifty selected students from Tintern Junior School travelled to the newly built Kenneth Myer Auditorium in Southbank, Melbourne to perform for this event.
This event was live-streamed on Facebook, with an audience of thousands who submitted their videos for inclusion in the online orchestra/choir. The AMEB then used snippets of action from the event to further publicise their launch across media channels throughout the day.
Our Tintern Grammar Junior School students were absolutely incredible last Tuesday. They sang two songs on stage, 'Electricity' and 'Sing' and were accompanied by Mr Ben Taylor on a beautiful new huge Steinway Grand Piano. They were great ambassadors for our school in their demeanour and we are so proud of them. It was a very busy time with a sound check on stage, photos, the performance, morning tea, certificate presentations, and many more photos before we boarded the bus home. You can view our performance below.
There were many audience members including some highly regarded music teachers and music directors from interstate who commented that the students' performance was "truly magnificent and certainly a highlight of the event." It was a great honour to chat with the director of the AMEB, Mr Bernard Depasquale and also with renowned conductor Jessica Gethin who after offering their praise and thanks, told me how very impressed they were with our performance at such an auspicious occasion.
Special thanks must go to Melissa Mackie for her vision of creating our school submission to the Online Orchestra and to the many Music staff who helped bring this vision to life.
Watch the official 2019 AMEB Online Orchestra – I am Australian video
Student AMEB Launch Event Report:
On Tuesday the 22 of October I was lucky enough to participate in the AMEB online orchestra. This event was held in the Kenneth Myer Auditorium in Southbank.  There was a live audience, and it was also live streamed on Facebook to hundreds of thousands of viewers. As I walked out onto the stage my excitement levels were through the roof, but I was also really nervous. The auditorium was the biggest and the most amazing I'd ever performed in. We performed two songs, Sing and Electricity. I think our choir and the spectacular Mrs Casey did an amazing job.  After we sang we went back to our seats and watched the video the AMEB created, with lots of schools and choirs and musicians singing 'I Am Australian'. The video was unbelievable and also a tiny bit emotional, seeing all the people being brought together from all over Australia by one truly amazing song.  I would like to thank AMEB for giving Tintern Grammar and everyone else this unforgettable experience and for Mrs Casey for teaching our choir and for also conducting us as well.
By Jack, Year 6
By Mrs Jacquie Casey, Conductor of the AMEB Combined Junior Choirs and Boys' Junior Music Co-ordinator