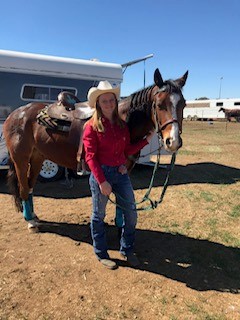 Congratulations to Charlie Johnson in Year 11 who was recently awarded the National Barrel Horse Association Victorian Junior Champion 2018.
Charlie is currently competing at rodeos in NSW and Victoria. The points and prize money she accumulates from placing at these rodeos with the Australian Professional Rodeo Association is added together over the season, which runs from Boxing Day to April. Charlie is currently ranked 16th in the country as a junior in Rodeo barrel racing.
Charlie has competed at Nationals in Tamworth for the past three years. Last year this event had over 800 competitors and Charlie finished in the top division (Div 1), which means she is ranked in the top 42 juniors in Australia.
Charlie is working towards qualifying for a national competition with the 'Australian Barrel Horse Association' and we wish her all the best for the remainder of the season.
by Rebecca Infanti, Equestrian Coordinator